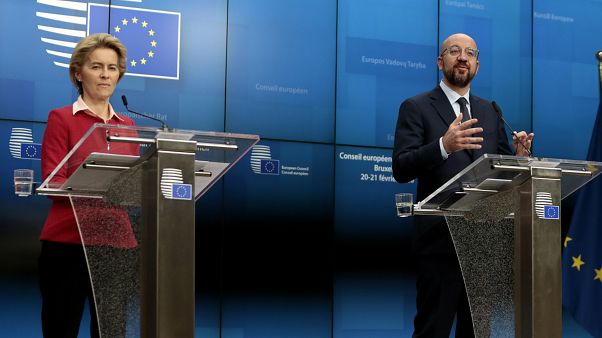 European Council President Charles Michel, right, and European Commission President Ursula von der Leyen.   –
EU leaders have agreed to prevent foreigners from entering the European bloc for 30 days as they fight to contain the deadly coronavirus
EU leaders have agreed to prevent foreigners from entering the European bloc for 30 days as they fight to contain the deadly coronavirus.
European Commission President Ursula von der Leyen said the proposal "got a lot of support by the member states. It's up to them now to implement. They said they will immediately do that."
At a press briefing on Tuesday night, Hans Henri P. Kluge, the World Health Organization's regional director for Europe, said that 152 countries were now affected by COVID-19, creating a "new reality" for millions of people across the world.
"Europe is the epicenter of the first pandemic of coronavirus and every country, with no exceptions, need to take their boldest actions to stop or slow down the virus spread. Boldest action should include community action. Thinking that "this does not concern me" is not an option," he said.
Italy now has nearly a third of the world's deaths from coronavirus as Rome announced 345 more fatalities on Tuesday, taking the countries death toll to more than 2,500.
Global deaths from the outbreak – the epicentre of which has moved from China to Europe – are around 7,800.
Source: euronews